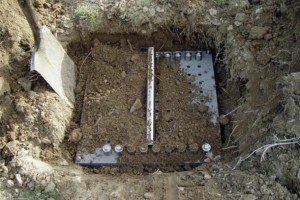 Game designer Jason Rohrer recently won a prize at the GDC (Game Developers Conference) for creating A Game for Someone.
A Game for Someone is very interesting because it is not designed to be played now, but by people 2,000 years in the future. In case you are wondering what makes this game so advanced, I can't tell you. You see, the rules of the game are written as diagrams on acid-free paper, and sealed in a Pyrex tube.
Yes, this game is one big secret, and it is said that it is buried at a secret location somewhere in the Nevada desert. At GDC, Jason Rohrer distributed millions of envelopes with one million GPS coordinates.
I believe that the image here is actually from the designer himself, and we know that the game is 18 x 18 inches with silver cylindrical pieces involving 30 pounds of titanium.
So I don't know what this is, but assuming humanity is still around in two millennium, perhaps I might try this game.