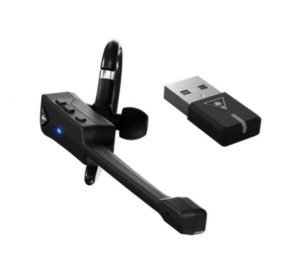 So, it is time again to review another terrific Turtle Beach product. This one is said that it is made specifically for the PS5 and PS4, but it seems to be made for Windows 10, Windows 11, and Mac as well.
So, you can see how it works: just plug in the USB dongle and you are connected. Of course, you have to do a little pairing, and I will have to admit that I had a little trouble with that at first. This is only because I had a difficult time finding the pair button on the headset itself (it's the logo).
I am told that the headset has a 10-hour battery, and there are reversable ear hook and swappable ear tips. The mic is noise-cancelling and gaming-tuned mic for clear chat.
So yes, if you have business or gaming pleasure, you can purchase the Recon Air for a relatively cheap price for $39.99 on the Turtle Beach site.