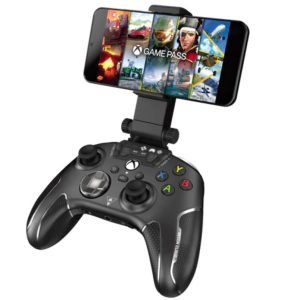 Okay, this is the second Turtle Beach product that I am reviewing this week, and the Recon Cloud appears to be made for the Xbox as well as Wireless Cloud Gaming. In fact, if you look at the setup, you might think that Microsoft made this bad boy, but I've used it for Android Gaming.
The Recon Cloud is good for both, and the controller is good for 30 hours worth of gameplay. You will notice that the setup for this guy is different than a lot of console controllers, as there is this cool clip thing that allows mounting a mobile phone directly on it. I will have to say that my phone, a Samsung Galaxy Note 10 Ultra, had to have its case removed before it fit.
Now, the Recon Cloud is built for the Xbox Game Pass, which I definitely like. It also has a lot of bonuses from Turtle Beach like enhanced audio features, then there is the pro-aim focus mode for enhanced long-range shots. Oh, then there is some cool ergonomic cooling grips and vibration feedback.
So, it works with Bluetooth and wired connections, and I have to like that. If you like to get in on this, head on over to the Turtle Beach website and lay down $84.95. (That price looks like a temporary markdown, as it looks like it usually is $99.95.)