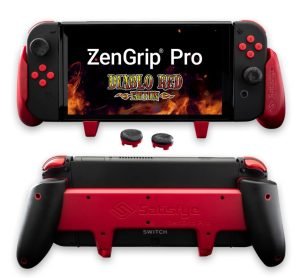 I got to really hand it to Satisfye to make something for the Nintendo Switch. The Zengrip Pro is made for an interesting grip for the Switch. Oh wait, I think I just said that.
Honestly, this was one of the times where I barely wrote the article before I tried out the product. I mean, using it is as easy as pie, or should I say Satisfye-d!
Yeah, you can see me with my Switch, and you can see how easy it is to just shove it on there. Then you have a nice ergonomic grip for those that love to play the Switch on the road. Oh, you can also stand up your Switch, as you can see in the video.
It's pretty easy to just shove a Switch into the ZenPro Grip there, but the issue is the RYZE Performance Thumb Grips. I had a bit of a issue with putting these on, but I liked the way my thumb fit in them.
In short, the Satisfye lives up to its name if you want some ergonomic action with a little bit of extra for your thumbs, then head on over to the Satisfye site and get the ZenGrip Pro for $44.99. My video below shows the Zen Grip Pro in two colors of Diablo Red and Pynkalicious, but like the Switch, it comes in many colors than just that.