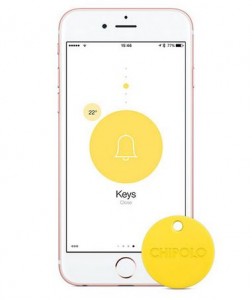 This is Chipolo, and I just covered a product just like it, and just click the "Previous" tab (assuming it is there) to get it. The Chipolo can be attached to anything like keys, pets, backpack, and syncs with Bluetooth.
The Chipolo sounds like some kind of Mexican dish, but it is a definite tracking app that works with some ringing. In fact, you can shake the Chipolo in order to find the device that is connected to.
It is a range of 200 feet or 60 meters, and has a community search by locating on a map. It has a battery life of about 6 to 12 months, and this device has a replaceable battery that comes with it.
The Chipolo comes in nine fun colors, and there is a new feature that allows for tracking the same Chipolo on two phones at the same time. Then there is this last feature that allows for shaking the Chipolo to take a selfie.
You can get the Chipolo for $29.99 on the official site.