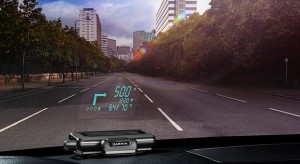 Remember a few years ago how the standalone GPS market was doing pretty good, with Garmin and Magellan being the leaders? Oh, those were the times, before every smartphone had a mapping App, at least more than one.
Garmin is still around, and it is cool to see that they are responding to the threat of distracted driving. This Hud, or heads-up display, sits on a vehicle's dashboard and project the direction you will need to go and when you will need to do it.
That is a lot better than just viewing it on your smartphone, and puts that the numbers that you want in a place where you need to look at them. As a bonus, the HUD has an integrated USB port so you can keep your smartphone plugged in.
I am not certain whether these Garmin HUD's are set to sweep the nation, but it will become available this summer for $129.99.