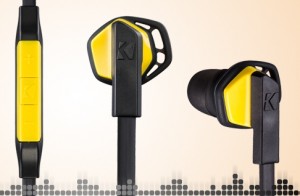 Every year I go to CES and see a company known as Kicker. They are usually in the place where the automotive accessories are located, because they are best known for their automotive stereo kickers. Okay, they don't really have a product called the Kicker, but I had a chance to try out the Cypher.
The Cypher are some great earbuds that have 7mm drivers for deep bass and smooth. What is interesting is their shape has some web thing that keeps them in the ears, and it is pretty tight. These ought to be some of those fitness-style earbuds that I see a lot of these days.
Kicker's Cypher is pretty good, and I will have to say that I like the yellow and black style. I don't know if it comes in any colors, but it has some of the usual standard features like a 3-button remote (volume up, volume down, and play/pause), a flat non-tangle chord, and an angled plug.
I never like the term "cypher" as it can refer to "a person or thing of no value or importance". It can also refer to a secret method of writing and this is what Kicker was probably going for that.
You should be able to purchase the Cypher for about $99.95 on the Kicker site.