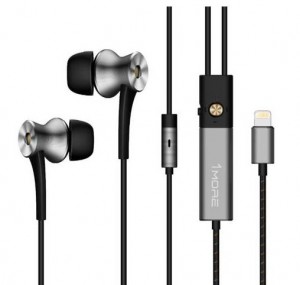 It has been quite a while since I reviewed a 1More product, and I was very pleased to review something new from them for the holidays. The 1More company is very good at making headphones and earbuds that are of a higher quality than the standard, and the Dual Driver LTNG ANC In-Ear Headphones are of that great standard.
So where to begin…hmm. Let's start with ANC, and what it stands for, which is Active Noise Cancellation. It seems that 1More excels at this, and it is made for reducing noises on an airplane, car, or train. For those that care about these numbers, it has a frequency range of 50-2000 Hz with 20 db Reduction. Apparently, they have five-stars in noise reduction performance and multiple environments, and yeah, I took that from their website.
It all boils down to some terrific sound that is expected from this company. Then there is the dual driver sound with a one balanced armature along with one dynamic driver which works like a mini-tweeter and dynamic driver respectively.
There is also a feature that includes a 5-in-1 controller that feels really unique to me. For a call, you just hit it in the center to answer/hang up, and press and hold to reject a call. As for the music, you hit it in the center to play, toggle left for the previous track, and toggle right for the next track. You can also control the volume and take phone calls.
All of this is put in a very great design package with lightweight alloys and made specifically with the Apple Lightning connector in mind, which is why it won a design award this year. You should be able to purchase them on the 1More Site for $149.99.