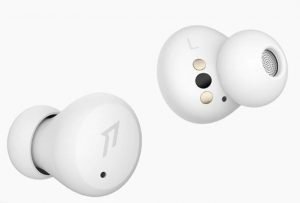 Okay, so it's another fine 1More with the ComfoBuds Mini, and this is apparently some kind of follow-up to the ComfoBuds 2, maybe?
Well, if "Mini" means "inferior", I can't say that these ComfoBuds Mini produce inferior sound. I am guessing that the "Mini" refers to its small size, made to fit in the ear securely. And hey, you need that if you're going to be dancing sporadically on TikTok.
So, how is the sound? Well, it has up to 40dB noise cancellation depth, and I am not certain what that means. These guys have 7mm dynamic drivers, and they were programmed by a 4-time GRAMMY award winner.
So there are two microphones in each earbud, made to filter out surrounding noises. That's a good feature, and another good feature is how they have a Qi Wireless Charging ability.
So let's talk battery life. I've heard that it is good for a 10 minute fast charge with 1 1/2 hours of playback. So, if you want it, head on over to the 1More site and lay down $99.99.