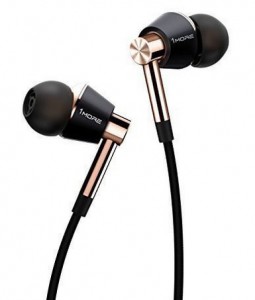 Time once again for us to revisit 1More, and this time, I'm going to talk about the Triple Driver In-Ear Headphones with In-line Microphone and Remote.
It's going to be had for me not to compare these earbuds with the Swavorksi that I reviewed yesterday, and I will say that they were tuned by the Grammy Award Winning Sound Engineer Luca Bignardi, and that will probably be the last time that I say that if the other two products that I review say the same thing. Oh, it also has the in-line remote control for both Apple and Android, and the Kevlar cable that is probably another 1More standard.
Let's talk about the three drivers, with two balanced armatures and a separate dynamic driver. Yeah, they work together to produce what I call "pretty cool sound". Yeah, I could probably use some other adjectives and adverbs, but needless to say, it has the 1More quality. It also has a lightweight aluminum alloy body that helps out the design as well.
This would be a good time to talk about the Ergonomic design, as they have an "oblique angle" made to "naturally match your ear canals". Yeah, I quoted that, but can you blame me? Look at the angle they are at within the image that I included here.
Anyway, if you like it, click here to find out more information, and it is possible to order it on Amazon as well.