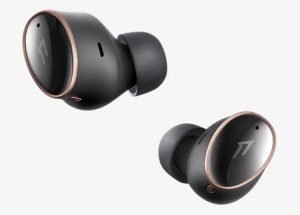 So, it is time to start a review of another fine 1More product, and this would be the EVO. It is a great pair of earbuds, and it feels made for pretty much anything.
I mean, the EVO has 10 mm dynamic driver, and like the previous two sets of headphones that I reviewed, some GRAMMY-winning engineer designed them. I am assuming that this is the person who programmed the EVO with a decoding rate of up to 900 Kbps. Oh, there is also some noise cancellation tech, and you can adjust it up to 42dB.
There is also some cool triple microphone array with a kind of AI-powered DNN (deep neural network) algorithm that can detect and remove background noise. That's all good for making phone calls, and if you want to switch from music to calls, just tap them.
What is great is how there is some kind of Qi Wireless Charging capability, and fast charging action as well. If you charge them for about 15 minutes, it translates to 4 hours worth of playtime. So yes, this is very, very good.
You can purchase it on the 1More site for $169.99, and I highly suggest that you do.