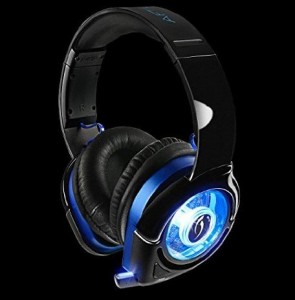 I have always loved PDP products, ever since I reviewed their afterglow controllers for last generations' video game consoles. That was so long ago, that I don't even want to link to that. Let's just say that they make good products, okay?
Needless to say, I was pretty glad that I had another chance to review another great PDP product, and the Afterglow Kral (named after I have no idea) is a good one. It is a pair of wireless headphones for the PS4 or PC, and they require a USB key for 100 feet of wireless connection.
I connected it to my PS4, and I have to admit that following the instructions didn't help. I had to go into the Settings and select "Devices", and it seemed to help set that up. I tried going into the Audio from Settings, and it just messed me up. When it did work, it was pretty great, and there is a bass boost to make it sounds even better. I was able to connect it to my computer, and I'm getting good sound while watching Futurama.
Then there is a retractable noise canceling microphone boom to record your voice. It is good for 10 hours of uninterrupted battery life and it has a Play and Charge cable so you can just play and charge it at the same time.
You should be able to purchase the Afterglow Kral Wireless Headset on the PDP headset for $99.99.