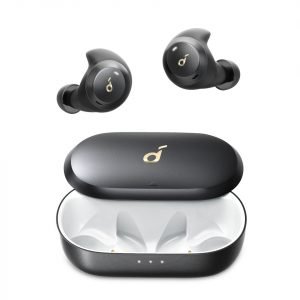 So, this is a very interesting product that we have from Anker. Of course, we are not going to say something bad about Anker, because they completely rock! In this case, it is quite literal with the Spirit Dot 2.
These particular wireless earbuds are the sporty kind, because they have IPX7 rated protection with SweatGuard technology. They also have some small size going on, so they will fit snugly in the ears for your workout or other activities. There are also some "zero-pressure airwings", a silicone build to really fit in the ear.
The Spirit Dot 2 also has some serious thumping bass. It is all due to an elastic bass-maximizing material designed to increase bass output by 100 percent.
There are also dual transmitters for some 30 percent lower latency, making it perfect for watching videos on the phone. Oh, I forgot to mention this other feature that includes MCSync True-Wireless Connection Technology.
If this is something that you want, you should head over to the Anker Soundcore site and pay $79.99 for it.