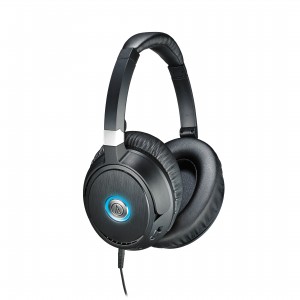 I'm always thrilled to review Audio-Technica's products, such as the ATH-WS77 Solid Bass Headphones. I had a chance to review another one of their over-the-ear headphones, the ATH-ANC70 QuietPoint Active Noise-Cancelling headphones.
I definitely think these are one of the most advanced headphones that I have tried as far as the Active Noise-cancelling part is concerned. It can reduce noise by ninety percent, and I will testify that it does that. I mean, I just put them on my ears, and I could not hear any of the conversation in the next room, like I normally can.
So how is the sound on the inside of it? Well, it is also quite good. I think it has something to do with its battery power, which causes a little light on the headphone to shine. You can turn off the electric power if you like, but the sound isn't quite so good.
By the way, the shine around the headphones illuminates the button to take a phone call and then return to your music. It also has a high-sensitivity microphone built right into the earcup.
Yes, the box on the ATH-ANC70 is made for smartphones, which is what it says on the box. It can be used for anything else, and the 40 mm drivers with a rare earth magnet system for great volumes.
If you want to get in on this type of action, I highly recommend heading over to the Audio-Technica site and laying down $199.95 for it.