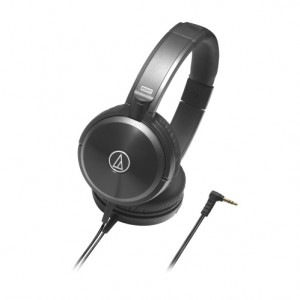 I know I just finished reviewing the Audio-Technica SonicSport earbuds, and I just got finished with the ATH-WS77 Solid Bass Over-Ear Headphones. Remember how I said that I liked those earbuds? I also like these Headphones, and I think it is pointless to say which I like more.
I am listening to them now while watching an episode of The Office, and it feels like I am watching The Office: The Movie. I can only assume that these are because of the 40 mm drivers, and I have heard that there are "undesired vibrations" that are "eliminated by direct-mounting the high-rigidity aluminum housing to the driver".
As for the construction of the headphones, they are made so they are light. The cups are flat and remind me of handle-less frying pans, but I don't feel weight on my ears.
In short, I will recommend them. You can purchase them on the Audio-Technica site for about $149.95.