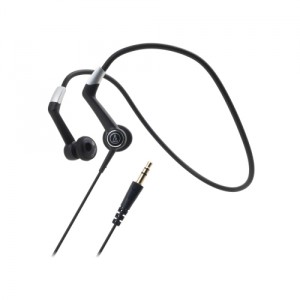 I love doing headphone reviews, because I am one of those audiophiles that don't know anything about the specs of headphones or earbuds. I have reviewed Audio-Technica products before, and I am pleased with the ATH-CP700, or SonicSport.
One thing that I love about the SonicSport is how it goes on the back as a single cord and then loops over the ears for a comfortable fit. It also makes you very aware of outside sounds.
I also like how the cord comes with all kinds of ways of set up, including the addition of a single-button remote and microphone for talk and music control. Then there are the other bonuses like a pouch. Oh, I forgot to tell you that these are IPX5 certified, which means that they can be washed under running water.
You should be able to get this for an MSRP of $99, and you can find out more information on the Audio-Technica site.