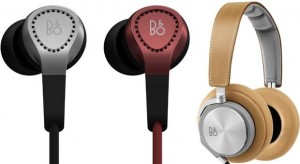 I suppose that the company Bang & Olufsen, or B & O, are considered the gourmet of electronics. After all, their stuff is pretty expensive and of high quality. The company has just unveiled some new products with the H3 and the H6.
The H3 are some in-ear headphones that have 10.8 mm drivers and a mini bass port with a 20Hz to 16kHz range with a unibody design. You can see two examples of them in the image, and I would imagine that they would come in more colors. The price is about €249, and I am not certain what that translates to in American dollars.
The H6 are some over-ear headphone design with 40mm drivers and a wide dynamic range from 20Hz to 20kHz, and it also features some daisy chain support. You should be able to get it for about €399.