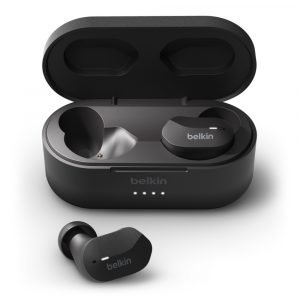 It has been a very long time since I have reviewed a Belkin product, I mean, it's been four years! Check it if you want, but the company is well known for making all kinds of technologic products good for just about any household or business. So it stands to reason that they would make a pair of true wireless earbuds.
Sure, this type of wireless earbuds are by no means new. The fit on these feels like you are putting a block in your ear, but don't take that negatively. You really have to make this shape good in order to keep it in the ear, especially if you want to be wearing them jogging or other exercise.
By the way, the True Wireless Earbuds are made to be IPX5 rated against splash and sweat. Oh, it also can play a long time for about 5 hours, and also has an all-day connection with 24 hours of charge without plugging in.
Another great feature is its intuitive touch controls and pairing, and there are also three pairs of silicone tips. You should be able to purchase the Belkin True Wireless Earbuds on the Belkin site right now for a low price of $39.99. Now, that is a good deal, and I don't know how long it will hold, because the regular price is normally $59.99 at the time of this writing.