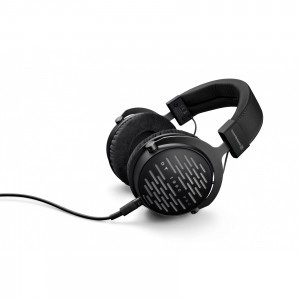 Beyerdynamic is a German manufacturer of some great headphones and headsets of all kinds. We've done reviews of their products several times in the past. The headphones we are going to review today are specifically made for those who are into mixing and mastering music.
These headphones are top of the line and very well designed. They are pretty spendy, at $599, but from the pros reviews- they are worth the many pennies.
Here is what you get- the headphones come in a nice, semi-hard carrying case. It really has a rich, professional look. You have two sets of ear pads. Both have a soft, velour material to provide comfort. There are balanced pads for the bass. The analytical pads are softer and have a neutral sound, and I found them to be a bit more comfortable. The thing with these headphones is that they are heavy- although, well padded, so I suppose they are comfortable for what they are, but I couldn't imagine wearing them for hours at a time.
They also come with 2 lockable connecting cables. One is a straight cable, and one has coils. The straight cable is 3 m long. The coiled cable is 5 m long if stretched out. Each cable connects to the headphones via a 3-pin mini XLR cable connector that clicks into place. I found it challenging to disconnect the cord, by the way. You are supposed to push the button and pull to release. I had to pull pretty hard to disconnect. Maybe they get easier to connect and disconnect with much use.
These headphones are open back, so they are not for use when other people are around who don't want to hear what you are listening to. Despite it being open back, the bass is clear and the sound is wonderful. If you are in the market for some high quality headphones, and can afford the $600 price tag, these could be the ones you are looking for. You can buy them here on the Beyerdynamic site.