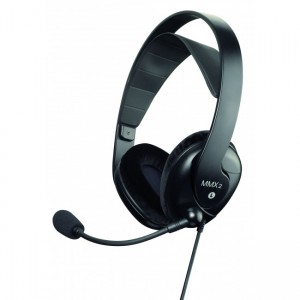 It's unusual when I review two products in the same week, oh wait, I guess it isn't. Still, I had a chance to review the MMX 2, and in spite of the numbering, the MX 300 is only one step up, honestly.
The MMX 2 is a professional gaming headset, and you might think that a headset that looks so light will only produce earbud-quality sound, but this is not the case. In fact, I am hearing some interesting bass right now, and it is quite great.
This particular headset has a controller that can hook-up to the PC's USB port, and you can kill the mic or control the headphone volume. Then you can connect the microphone and headset to that. The microphone is on a flexible holder, and it works pretty darn well, as I just tested out. It is a plug and play feature, by the way.
Another terrific feature of the MMX 2 is the headband, which is really adjustable. All-in-all, it is quite good gear, and it can be purchased at the Beyerdynamic site for $99.00.