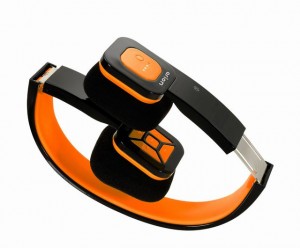 As you have noticed, this is one in a trilogy on products by Eagle. I have never heard of Eagle before I attended CTIA, and I was pretty pleased with what they have.
Today's product is the Foldable Bluetooth headset, but I am not certain if it has a better name than that. If you want the full name, I believe it is ET-ARHP200BF-BO, but I'm guessing no one is doing a search for that.
Well, I have reviewed a lot of wireless Bluetooth headsets, and I will have to say that this one from Eagle is lighter than most. One charge is good for 13 hours of music and talk time.
One thing that is pretty unique is that there are four lights that designate how much power it has. It is similar to the lights you see on a lot of mobile battery devices.
You can find out more information about the product here, and you can purchase it on Amazon for about $69.99 here.