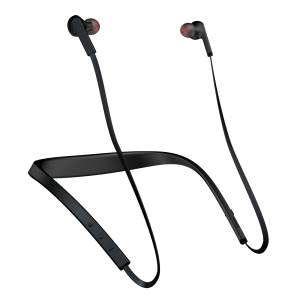 I have reviewed a lot of Jabra products in the past, and I am pleased to review another with the Halo Smart Wireless Earbuds. They are one of those that wrap around the back of the head, like the iHome FIT Wireless, and I am told from Jabra that this style will soon be replaced with the wireless earbuds (coming next year from Jabra).
I am told that the Jabra Halo Smart can be worn all day, and part of it is the design. There is some kind of bendable design to make it easy. I will have to admit that I'm sort of becoming immune to the feeling of headphones in my ears, as I have them practically in my ears all the time.
Of course, you can be listening to music and take phone calls. It is definitely made for the Siri and Google Now era as there is a special button devoted for it. I suppose if these are comfortable enough to wear all day, then you might as well have your personal voice assistant to talk to.
The Halo Smart allows for 17 hours of talk time or 15 hours of music on a full charge. There is an app that tells you how much battery life is available.
Another feature is that the Halo Smart is wind and weather resistant, but that is all the information that I have about it. It doesn't sound like you can dip them in water, and believe me, I am not testing that.
You can purchase the Jabra Halo Smart on the Jabra site in Black, Black with Blue, and Black with Red for $79.95