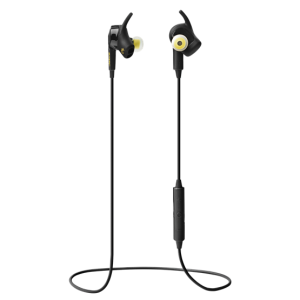 This is a Jabra Sport Pulse Special Edition, and it is another one of those wireless earbuds that goes around your neck. It is billed as "the world's first sports headphones with automatic fitness testing".
The Jabra Sport Pulse Special Edition has a built-in heart rate monitor in the ear. It is apparently made with US military standards, which means that it can withstand war or the worst workout, maybe both. Seriously, if something is military standard, that means it can take a hit, right? Well, this also has passive noise cancellation and enhanced bass.
It also has automatic VO2 Max tracking, which is "a scientific way to measure your absolute fitness". It is a way of getting the maximum rate of oxygen that the body consumes during exercise, and helps determine the endurance level. So it has some VO2 Max levels for enhancing the user's performance, as I don't know much about this until I read about it. I think this is what makes this the Special Edition, but i'm not really certain.
These can do music and take calls for about 5 hours. That might not sound like much, but how long is your workout, anyway? By the way, you can integrate with apps like Endomondo, Strava, MapMyFitness, Runkeeper, and Runtastic. There is also a Jabra Sport Life app that will plan and monitor your exercise performance.
In case you are worried about the earbuds falling out, that won't happen as it has a perfectly secure fit with COMPLY isolation foam ear tips. I am told that it has a 3-year warranty against sweat, so it must be resistant against some wetness and weather as well.
If this sounds like something you want, then head over to Jabra site and pay $159.99 for them.