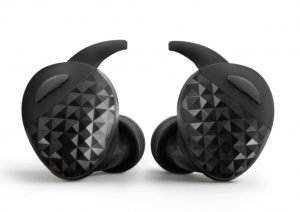 So, I guess it is time to review another pair of wireless earbuds again, and this time it is for a pair from Helm Audio with the Helm True Wireless 5.0 Headphones.
So it's time to see what makes these Helm Audio Wireless 5.0 Headphones different? Well, they have this diamond pattern shell as well as this great comfort fit that will stay in your ear for whatever activity that you want.
It also has a smart button for activating voice assistance and making phone calls. Did I mention that it comes with dual mics? It has it, and so you can count on good music, as well as clarity for your phone calls.
I can't believe that I have taken this long to say that these are Bluetooth 5.0, but that is pretty obvious, honestly. It also has some Qualcomm aptX audio with it as a great feature.
So let us talk about the extended battery life with the auto-charging case. I like how it is, honestly, with its clear plastic top that is kind of hard to open sometimes. Still, you can get 6-8 hours of music playback along with the additional 30 hours.
If you want this, you can get the Helm True Wireless 5.0 Headphones for $129.99 on the company website, and you can get it for half-price if you are one of our frontline heroes.