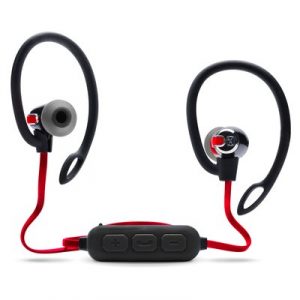 So, it seems that with the holiday season coming up, this means that I will be reviewing a lot of products, and I have already started. Still, I have been reviewing products from iHome for years, and I am pleased to do so once again. I'm going to do five this week, and I am going to start with the iHome FIT, a water-resistant pair of wireless sport earbuds.
I have reviewed products like this in the past before, and they are very similar to the iB73 that I reviewed last year. As you can see, these are made for those who are into physical fitness, and the earbuds have a shape made to contort to the inner ear.
For those who want to have earbuds that are resistant to sweat, you should definitely look into this pair as it is IPX5-rated. Let's talk about other specs like Bluetooth 4.0 for wireless capability, good for 30-feet away (typical Bluetooth range), and 4 hours of music or talking. Yes, it has that microphone so you can play/pause/answer calls at the touch of a button.
One feature that you might be interested in is the Melody Music Assistant that is good for using your voice in order to access music while on the road. So you can just say things like "play hits on iHeartRadio" or "play on Spotify", and it will happen.
It is quite a decent pair of earbuds, made for those who like to be active. The only thing left to talk about is the price. You can get it on the iHome site for $39.99.