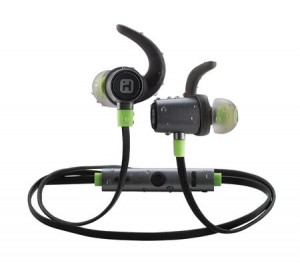 Well, it is now the second day of the iHome holidays with the iHome Fit Wireless. This product, also known as the iB73, is one of those Bluetooth 4.0 earbuds that goes around the neck.
Granted, it is probably not the first Bluetooth product of its type for iHome, and these type of models are being phased out by the wireless earbuds that will be the thing to have in 2017.
However, let's live in the now and talk about the iPX5-rated water resistant and sweat-proof design. Yes, it is definitely designed for those with active lifestyles, and the custom fit ear cushions should keep the iHome iB73 in your ears.
They also have that built-in microphone for a switch so you can take phone calls. The controls are located very close to the ears, by the way. It's odd design, but at least your fingers will find it quickly.
As far as the amount of time you will have to listen to your tunes, I am told that you got about 8-10 hours on a full charge. Of course, it includes the micro USB cable and a handy travel pouch.
You should be able to purchase the iHome Fit Wireless on the iHome site for $79.99 in blue, red, or green.