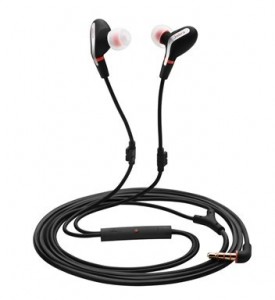 I always like Jabra's products, and this company is usually known for its Bluetooth headsets. The Jabra Vox is a pair of wired earbuds, which might seem rather pedestrian and ordinary, but it is not.
The Jabra Vox has, on its box, a subtitle of "Massive Sound". I generally don't try to blow my ears off with earbuds, but the company has worked with Dolby to bring some pretty high-def sound with Dolby Digital Plus.
That, coupled with an exclusive Sound App, the Vox is a good deal. The App allows for creating and browsing through playlists, sharing music, and adjust the graphic equalizer to create some really good sound.
Not only does the Vox give out some pretty good sound, but it is also made to stand the pressures of life. It has tangle-free cables that have a squarish design rather than a plain wire, and I am told that it can withstand 15 kilograms of pull.
Other features include a mic and music control on the wire, not to mention ColorCore EarGels that fit well in the ears.
You should be able to find out more information on the Vox on the Jabra site here for about $99.