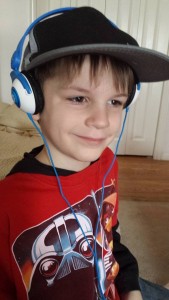 The kids always enjoy when Mark comes home from CES bearing gifts of product samples and swag from the convention. This year, we had the privilege of receiving a set of headphones for each of our three children from Kidz Gear.
Kidz Gear headphones are designed with kids in mind. The main feature is the KidzControl volume limit that maintains a safe limit of volume of up to 80% of maximum volume. There is a built-in volume knob to control the range of volume(within the safety limit). It puts a parent's mind at ease that young eardrums are being protected.
These headphones are offered in a variety of colors, and at a great price of $19.99. They are very good quality and comfortable- even for this grown-up who sometimes steals her kids' headphones on occasion.
There are also these headphones with the built in boom-microphone for $29.99. My daughter got a pair of these, and they are good for her on-line school since she needs to use a microphone to communicate in the virtual classrooms. The microphone can be moved out of the way when not in use.
Go check out these products at http://www.gearforkidz.com. You can get a free carry bag with the purchase of the headphones, and a free splitter when you order two- which can come in handy when you have more than one kid wanting to listen to something on the computer at the same time, and you want the peace and quiet.