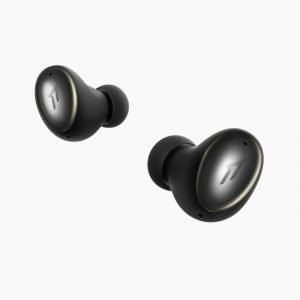 So, it has been over two years since our last review of a 1More product, the Spearhead VR BT In-Ear Headphones, and now we're reviewing our first pair of wireless earbuds from the company with the Colorbuds 2.
I'll go ahead and start by talking about the most important feature: the sound. It helps that it has a 7mm Dynamic Driver, as well as SoundID. What is SoundID? Well, for the 1More Colorbuds 2, it allows for the creation of personal sound profile with a quick in-app hearing test for a personalized listening experience.
So, I tried them out, and I love them, and the sound really rocks my ears. So much so, that I really started dancing. Yeah, I'm not certain if I should show that, but I will say that the set-up was pretty simple with Bluetooth 5.2.
That's all well and good, and as far as making calls, that is possible due to four microphones built inside of it. The Colorbuds 2 also has some active noise cancellation, and you can also enjoy transparency mode for hearing the world about you.
So what else does the ColorBuds have? Well, it has some seriously great features like a 24-hour battery life, IPX5 water resistance, not to mention fast charging and wireless charging.
If you want to get in on the ColorBuds 2, head on over to the 1More website and prepare to lay down $79.99 for them. They are available in Midnight Black, Frost White, and Twilight Gold.