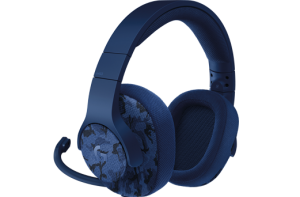 It's been a while since I reviewed a Logitech product, and the last time was a pair of gaming headphones known as the G231 Prodigy. I have no idea if Logitech's G433 is some kind of deliberate follow-up to the G231 Prodigy, but they are one great set of gaming headphones.
The G433 is made for simply whatever gaming that you are into, which includes the PC, Mobile phone, Sony PS4, Xbox One, and the Nintendo Switch. Yes, it can do all that, and it has 7.1 Surround Sound Potential Audio with 360 degrees of positional audio.
I have to admit that I find the G433 to be very light, which is great considering that the drivers inside them are incredibly grand with clear highs, precise treble, and great bass. This is good for hearing not just your game, but anyone in your multiplayer team. Not only that, you can customize the sound for just about anything.
The G433 not only has a removable boom microphone, but all the cables can be quickly removed as well. Now, just so you know, there is an adapter required for some particular units that you work with it.
It is a pair of gaming headphones that I will recommend, and it is available on the Logitech site for $99.99 with free shipping in black, red, blue, and a limited edition of blue camo.