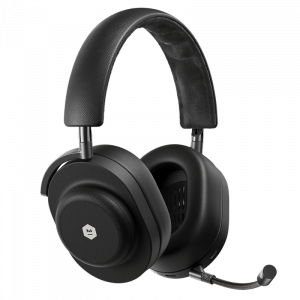 Ah yes, it is time to do another review of an awesome Master and Dynamic products. It looks like the company, which already produces some superior audio products, has gone into the gaming market with the MG20 Wireless Gaming Headphones.
I've praised Master and Dynamic before, and I came fully prepared to do it again. In this case, I was pretty impressed with the 7.1 surround sound headphones as well as the custom 50mm Beryllium coated drivers. Yeah, I'm not a true audiophile, but it certainly sounds very good.
So, yes, the Master and Dynamic's MG20 Wireless Gaming Headphones are the over-the-ear kind, and since it is for gamers, it has the customary detachable boom mic. You can see that this one is very flexible, not just because it is pliable, but it has this pop filter for audio clarity.
So, if the MG20 are truly wireless, then it only remains how long the battery will last. In this case, we are looking at 22 hours of battery life, and I'm told you can get it that way with only 30 minutes of charging.
So, I'm told that the Master and Dynamic MG20 are just for PC and PlayStation, and I tried them out on both. The MG20 has a dongle that will make it connect, and it worked out really well once I figured out how to turn it on. Yes, I had to check the instructions, but you'll get it working within minutes.
If you want the MG20, head on over to the Master and Dynamic site and pay $449 for them. It comes with a USB-C to 3.5 mm input cable, USB-A to USB-C charging cable, and a headphone pouch.