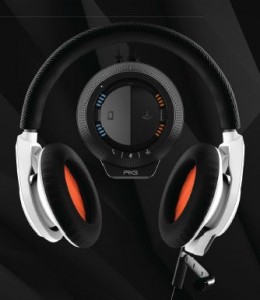 I'm not certain if Plantronics' RIG should always be capitalized, but right now, it is speaking in all capitals on my ears. Seriously, this pair of headphones has some serious bass that is rocking me with 40 mm speaker drivers.
The RIG is designed for the PC, Xbox, or PS3, but it is also made for the mobile in mind. You can see in the illustration here this circular thing in the middle of the headphones. This is a volume adjuster/mixer. It has a button that allows you to take phone calls while you are gaming.
This particular disc thing has many dials for mixing, and it really is pretty amazing. It has some nifty colored lights as well.
In addition, to that mixing feature, it also has a cool interchangeable mic with an inline mic. This is for taking calls while you game, which is apparently something the RIG prides itself with. If you don't believe me, check out the ad on the RIG site here.
In short, the Plantronics RIG is a very cool set of gaming headphones. You should be able to purchase them for a price of $129.