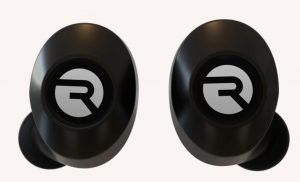 Well, if you haven't heard of Raycon, then maybe you need to watch more YouTube videos. I mean, I kept seeing them advertised, and I was wondering if I could get them to advertise on my YouTube channel. Well, I might think of that in the future, but for now, I'm going to review the first of their products with The EveryDay Earbuds.
I'm guessing that they are so called because they are made for the everyday use, and I have two more parts in this series to discuss two other specialty earbuds. They definitely don't fall out, and I'm guessing that a 32 hour battery life is very sufficient for everyday use.
These guys also have Bluetooth 5.0 as well as IPX6 water resistance. So yes, they are made for probably a little bit more than just everyday usage, but you need that, because everyday life can be a bit extraordinary at times.
So the short story is that these earbuds with the "small build" and "mighty sound" are able to "deliver crisp and powerful beats for your everyday grind". Yes, I stole that from the website, but I'm not certain that I could have said it before myself.
So, if you are interested in the Raycon Everyday Earbuds, head on over to the Raycon website and lay down $79.99 for them. That price seems to fluctuate, so get in on it while you can.