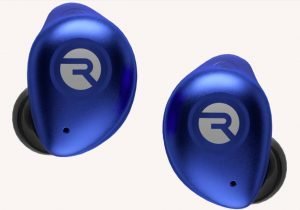 If you like are like me, then you go to the gym once in a while. And, while you are exercising at the gym, you want to listen to some music to motivate you. So, for our second part of our Raycon reviews, we will focus on the Fitness Earbuds.
So, what are are looking at here? Well, you can see by the shape that there are some fit fins that are made for "maximum comfort and stability". In other words, they will stay in your ears while you are doing some hard exercise.
Then there is a bonus of IPX7 waterproofing, which means the Fitness Earbuds are protected from sweat. It also has 54 hours worth of battery life, which is definitely more than enough for the workouts that I do (I keep them short, in case you don't get that).
I think I forgot to mention this in the last review, but the Fitness Earbuds have three sound profiles, like the Everyday Earbuds. There is also awareness mode, so you can hear the world around you.
If the Fitness Earbuds sound good for you, then head on over to the Raycon site and pay $119.99 for them.