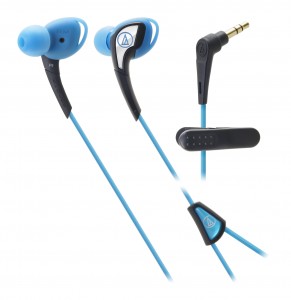 This would be my second Audio-Technica product that I have reviewed this week, and this time, it is not gaming headphones. No, this is the ATH-SPORT2, which is some great earbuds made for the active lifestyle.
I had a chance to try them out for myself, and they have some great sound that I have come to expect from the Audio-Technica company and these have cool 10 mm drivers. What is terrific about it is how they are designed to go around the neck so they will not get tangled, and there is some active fit ear tips that stay within the ear canal with three different sizes of silicone housing rings (Small, Medium and Large).
In addition to the snug fit within the ear canals, the earbuds are actually iPX5 waterproof which means that you can take them out for a jog in the rain. According to the official site, you can run the earbuds underneath a tap water faucet, and they will be fine.
You should be able to get the Audio-Technica ATH-SPORT2 on the Audio-Technica site for a price of $39.95 in black, red, navy-yellow, blue, and yellow-pink.