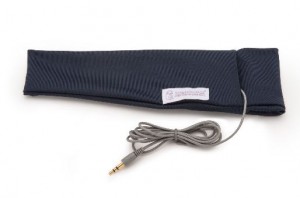 The company of AcousticSheep appears to have a specialty making audio products of a different variety. One of their famous products is the SleepPhones, and the name is enough to say what they do: earbuds for those who sleep.
The SleepPhones are not traditional earbuds, but they have super-thin speakers inside of a soft cozy headband. So I am not even certain if the term of "earbuds" is a worthy description.
So, for those who like to sleep with earbuds on, you will love this. It has a comfortable fit with a fleece headband. The end result is a way to reduce the ambient noise, for those who need that extra music to sleep by, here it is.
Now, these thing is made to plug into anything with a 3.5 mm audio jack, but they come in a wireless option as well. Honestly, I was hoping to review the wireless option, but this seems to do the trick.
The wired version costs $39.95 in midnight black, quiet lavender, and soft gray on the AcousticSheep website. Those are the fleece versions, which are made to warm your head. The breeze version is galaxy blue, sunset pink, and pink leopard and is better for the summertime. What is funny is how it says "one size fits most", as well as extra large and extra small.