We've reviewed many a gaming headphone in the past, but this will be the first time reviewing Sound Blaster X H7 Tournament Edition by Creative. This is apparently an improvement on the usual Sound Blaster X H7, but since we haven't reviewed those ones, we won't do a comparison.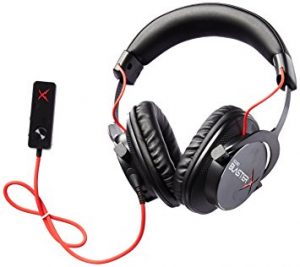 We can tell you that these headphones have nearly the same sleek look as their predecessor. This newest edition has red connecting wire that runs through the headset, and brushed aluminum finish on the sides of the earcups. Their red X logo on the side glows when plugged in, which provides a nice touch.
Most important to many gamers is the comfort and sound produced by the headphones. The sound is fantastic with 7.1 virtual surround sound, and the ability to customize sound for various games via the app for the PC called BlasterX Acoustic Engine Pro. This includes Scout Mode which allows you to hear beyond what you can see.
There is an inline volume control toggle, which you can also connect your phone to and be able to answer calls. The mic is removable, and it has improved noise cancellation and design over the original model. Did we mention comfort? The headphones are lightweight at 272 g, and the padding on the headband is cushioned.
These headphones are compatible with PlayStation® 4, Xbox® One, XBox360 and the PC. You can even hook them up to your smart devices like tablets and phones. The  Xbox One  does require a stereo headset adapter that is not included with the headphones.
So wrapping it all up, I would say that these headphones are a good buy for their price range, which is $99. You can buy them off the Creative website, or other places, but it seems to be the best buy right now off the Creative website.
Disclaimer- Thanks to Creative for sending us these headphones to review in exchange for a fair and honest review.