We have another pair of wireless headphones to review. These are the HA-ET50BT Sports Wireless Bluetooth® Headphones from JVC. These are a great accessory for those who want to complete their workout without being attached to their devices.
These headphones do have a wire that runs from one earbud to the other. It's not like the wireless earbuds that we reviewed a couple of weeks ago, but these also are relatively less money, so if you don't mind a wire touching your neck, then you should be good with these.
When you open your cool magnetic package, you will find an included charging cable(micro USB), an open type ear piece in 3 sizes that allows for ambient sound to filter in for safety, and also 3 sizes of regular ear pieces if you don't need to hear your surroundings.
The headphones are water resistant, which is good if you are running in all kinds of weather. There is a cute advertising video for how well they stay in when everything is thrown after the jump: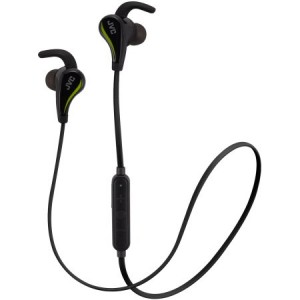 You can expect your headphones to last for approximately 9 hours before they need to be recharged, which takes approximately 3.5 hours. The sound quality would be what you might expect from a pair of decent headphones.  
There is a microphone on the volume control remote so you can answer calls, and JVC offers a free app to play your running music on. Another great feature is that the headphones are magnetic, and they will clasp together to hang around your neck securely when you don't want to wear them in your ears.
The headphones come in three colors- black, blue or yellow, and their list price is $79.95. JVC doesn't sell them off their site, but you can find dealers through them.