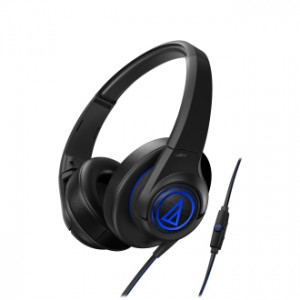 I have reviewed Audio-Technica products before, like the ATH-CKX5iS and other SonicFuel in-ear headphones. Now I am reviewing the SonicFuel over-the-head headphones.
There is a reason that the ATH-AX5iS by Audio-Technica is labelled "over-ear headphones for smartphones". I used this on my computer, and I found that I had to turn up the volume. I will have to say that the sound is terrific, with deep bass tones. I found that I didn't have to do any more volume adjustment when I plugged it into my Galaxy S III.
Of course, it is always tricky to review headphones, because it really is all about the sound and all. I'll talk about the other features like the in-line mic, and the volume and track controls on the cord. The cord is nice and flat in order to resist tangles, and this is starting to become a standard in headphones. The only feature that I wished it had was a glowing Audio-Technica logo on the sides, sort of like the SteelSeries Siberia Elite.
If you want the ATH-AX5iS SonicFuel Over-ear headphones for smartphones, check it out on the Audio-Technica site in black or gun-metal gray for $89.95.