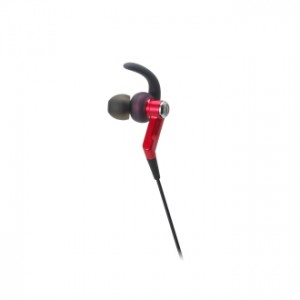 Okay, I am going to conclude headphone day with another one from Audio-Technica, the SonicSport In-Ear Headphones, or ATH-CKP500. I'm going to begin by saying that it looks more like these were designed for the athletic in mind.
These particular "athletic" types of headphones usually have some way to stay within the ear. It is similar to the QuietPoint that I already discussed today, but there is some C-shaped eartips that keep it within the ear canal. In case you are worried about ear junk, you can wash these off, as they are IPX5 Waterproof Certified.
Now, at first I thought these things were defective as the left side cord didn't seem too long. It is actually angled housings to direct the cord behind the neck, so it is out of the way. I can testify that the cord does stay out of the way, too.
If this is something that you want, then I will recommend them. Feel free to head over to the Audio-Technica site and lay down about $59.95. They come in several different colors including black, red, white, and blue.