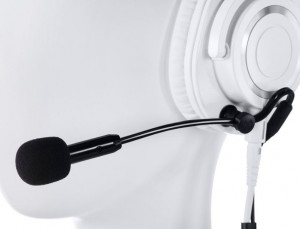 Yes, this is the ModMic 5, and I have actually heard that there are four of them before this. I haven't really heard of them, but is it really possible to hear about every tech product in existence? I'm trying to keep up with them on this blog alone.
Needless to say, the ModMic 5 has an interesting function. It is made to add a high performance microphone to any pair of headphones. In fact, it has dual microphones for maximum flexibility. I suppose that people who don't have a microphone on their headphones really need this product. It can attach to a pair of headphones with magnetic clasps, and it has a cable clasp for protecting wires.
It also comes with a Y-adapter and a powered USB adapter to allow for current generations of whatever devices that you could bring up. I should probably tell you about some of the features, it has a noise canceling uni-directional cardioid capsule for loud environments or a sensitive omni-directional capsule for high quality voice recordings. It has a modular mute switch and a flexible design.
So, if you want to get into the ModMic 5, head on over to the AntLion Audio site and lay down $69.99 for it.