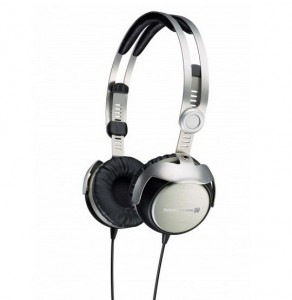 I'm always pleased to review Beyerdynamic products, and I recently had a chance to check out the T 51 p. I was very pleased to review the T 51 i.
I honestly believe that the only difference between the T 51 p and the T 51 i is that the T 51 i is licensed to work on the iPod, iPhone, and iPad. I believe that it is made to work with the three-button remote and microphone, which is something that I don't remember being on the T 51 p.
There is some seriously good sound coming from this, which is not surprising from a set of over-the-ear headphones. It has a "deep bass response" and "transparent, clear highs", which translates to "high efficiency and low distortion". Again, I don't know how to describe good sound with words.
One of the problems of over-the-ear headphones is that the sound costs comfort. Sometimes they are tight and heavy on the head, but the frames of these are pretty good. There is a very pleasant metallic look to them, and the memory foam makes this even more comfortable.
If this is something that you want, check it out on the Beyerdyanmic site for about $313.99. I do highly recommend them.