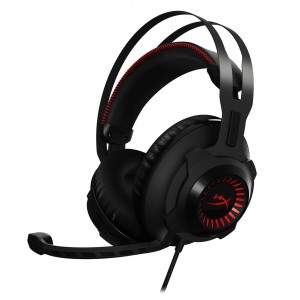 By the way, if you haven't caught the pun I'm trying to make in these titles, think "We Three Kings". I figured since I was reviewing Kingston products, it kind of works. Anyway, this is the last of the Kingston products that we will be reviewing this year with the HyperX Cloud Revolver.
I might as well get to the comparison of the HyperX Cloud Stinger. I will say that the HyperX Cloud Revolver is much heavier than the latter video headphones. The reason for the higher weight is due to the durable steel frame, but what is interesting is that it has some memory foam on the earcups.
Now they do have next generation 50 mm drivers for some much better sound (well, 50 mm is higher than 30 mm). However, it has a studio-grade sound stage, but I am not certain what that means. If it is that the sound is good, who cares what you call it?
It means great sound for gaming, and like the Cloud Stinger, it works for the PC, Xbox One, PS4, Wii U, Mac, and Mobile. Yep, it's pretty versatile, just like the HyperX Cloud Stinger. I suppose it would be easy to just say that the Cloud Revolver is a Stinger upgrade, but that might be too much an over-simplification.
Right now, you can find them on the Kingston site for $119.99, and I think that that could be a holiday markdown.