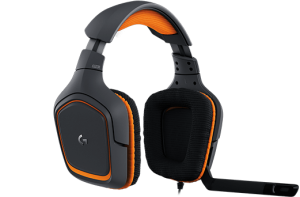 Well, I had a terrific time reviewing some products from Logitech, and I like making Christmas puns, so this is Yule Logitech! Get it? I'm going to start with the Logitech G231 Prodigy Gaming Headset.
It seems like I have been reviewing a lot of gaming headsets lately, and the ones that I like are the lightest ones. The G231 Prodigy is one that I picked up and it was like feathers.
But enough about weight, we'll go ahead and talk about the sound. Since it has 40 mm neodymium drivers, it has high-quality stereo sound for full immersion in your games. The are good for the Xbox One, PlayStation 4, and the PC. I am not certain if the mesh cloth ear cups have anything to do with it, but it certainly sounds just fine.
The G231 has a folding unidirectional microphone, which will allow you to adjust so you can be heard. Speaking of folding, the earpieces is able to lay flat on the floor, as the earcups can swivel 90 degrees. Oh, and referencing the last sentence about speaking of being heard, there are some on-cable controls to keep the sound close at hand.
If that sounds like something that you might like, you can pick it up on the Logitech site for $69.99.