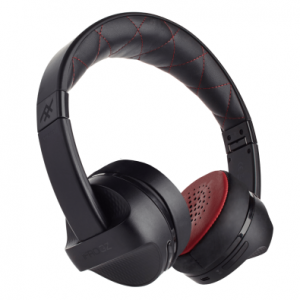 Last week, a big box full of ZAGG products appeared on my doorstep, and I've decided to devote a week to reviewing them all. If you aren't familiar with ZAGG, they put out a lot of great stuff, and they also have acquired the rights to a lot of other great brands like Invisible Shield (coming later this week), and today's iFrogz. The company of iFrogz made a name for itself with iPod accessories back in the days of those, and I got a chance to review the iFrogz Impulse Headphones.
I would have to say that the seventies have met the present with this particular design. The aesthetic seems to borrow from that bygone era, and it uses a color scheme of both black and red. Since it is Bluetooth, it has no wires. If you want to go old school, you could go with the included 3.5mm headphone jack wire.
What else has been updated for the modern age? Well, for starters, it has 40 mmm drivers complete with noise isolation, so that is a definite step forward. You can see the padding on the headband and earcups if you want proof of that noise isolation thing.
As standard for a product like these, there is a built-in mic in order to take your phone calls. I'm not certain how much of a standard this is, but there are some controls on the headphones themselves for power, volume up/down, track forward/backward, as well as pause/play.
All this, and they have a very great folding feature as well. You can get the iFrogz Impulse Wireless on the ZAGG site for a price of $59.99.