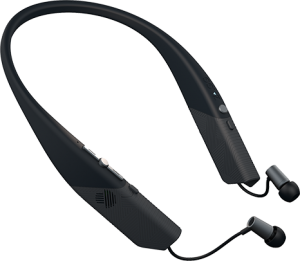 Okay, it is another day with a set of Bluetooth headphones, or some kind of earbuds, really. I have to admit that the Flex Arc Wireless is a pretty unique design.
The might not be the earbuds that look like earplugs, but I keep talking about how all earbuds are going that direction. Most Bluetooth earbuds have this essential design of a wire connecting them that hangs on the back of the neck, and the Flex Arch Wireless takes a different twist on this.
You see, this nape-dwelling wire is actually some kind of hard yet soft horseshoe thing. They have some retractable earbuds that have a thin wire and will pull back with the touch of a button.
In addition to that unique feature, the Flex Arc Wireless is a speaker as well earbuds. You can change from sound from the buds to the speaker, but I will have to say that the speaker sounds pretty weak in comparison to the buds. I guess if you want to allow your friends to hear your music, it will do. This is strange, as the earbud drivers are 6 mm and the speaker drivers are 13 mm.
As for the other features, it has eight hours of playtime, as well as a built-in microphone and voice controls. So if you are wanting to get in on this, head on over to the ZAGG site and pay $79.99 for them.