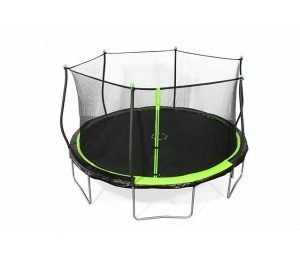 I bought a house about two years ago, and it has a yard that is big enough for a lot of things. One of them is the space for a trampoline, but for some reason, I never thought I would be a "trampoline" family man. Well, thanks to the Bounce Pro 14-foot Trampoline, I am now.
I have to admit that I was concerned with the set-up of the BouncePro 14-foot trampoline, but there was nothing to worry about. You see, my kids actually did most of the work. Yeah, I'm hoping that the song don't get flagged.
In the end, you have a 14-foot trampoline that has six poles that encloses it with a nice mesh net that zips shut. I am told that it has a 220 pound weight capacity, so it looks like any adult in my household should probably bouncing alone.
I am aware that families with trampolines are more likely to get into accidents, and so I'm going to have to follow a serious safety protocol. Other than that, just have a lot of fun, I know that I am, and honestly, I think I'm helping my family grow.
I found the BouncePro 14-Foot Trampoline on the BouncePro website, and I didn't see if you can order it. I will say that I got it at Wal-Mart for $179.99.