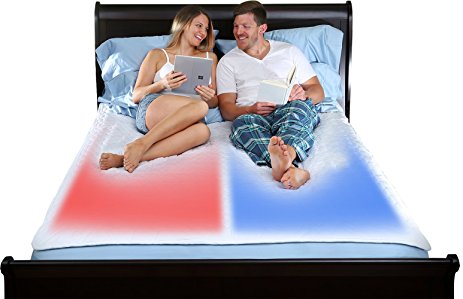 I have been wanting to review the Chilipad for a long time now, as it was a device that I saw at CES 2018. Generally, I don't get a chance to review anything like this, so I'll try and just summarize it, in case the picture doesn't make it obvious.
If you share a bed with someone, then you might have an issue with one feeling too hot, while the other feels too cold. In all honesty, I don't know if my wife and I have ever had this problem, but we have been in a car where I was too cold and she was too hot.
Well, you can see where this is going, can't you? The Chilipad is a way of regulating two zones of climate control on your mattress, so the hot stays hot and the cool stays cool. Think of it as the McDLT for the bed, and honestly, I am not certain what age group wouldn't understand that reference.
Now, when this thing came to me, the box was huge. I wanted to do an unboxing video, but it didn't really work out on this occasion. Needless to say, I opened the box to find the pad itself folded on top, and this particular product isn't like an electrical blanket or cooling. No, this is a pad that lays atop the mattress itself, and I will explain how it works later.
Once I opened the product and took out the Chilipad itself, I saw two boxes within the big box. Each of them said this: "Inside this box is your solution. No more sweating, tossing, and turning. Only Sleep Nirvana." Within these two boxes are a cube, cord, and a remote control.
Now, these cubes are the key to how the Chilipad works. The Chilipad itself doesn't work with the power of electricity, like an electric blanket, but water power. Yes, there is water being pumped through the Chilipad, and the cube allows that water to be either hot or cold, depending on what side of the bed that you are on. So there is now plumbing going through your mattress, but not near as much water as a waterbed. I didn't really want to test how strong these pipes were, but you need to attach a weird pipe to the cube. I don't know if you should let a dog or cat on the Chilipad due to their claws.
Yes, there is a Single and Dual Zone option on this, but I have said this before. I don't know if I need to say this, but the cubes have to be filled with water into order to work. What was funny was how I couldn't figure out how to fill them at first. There is thing that unscrews that I actually thought was a dial.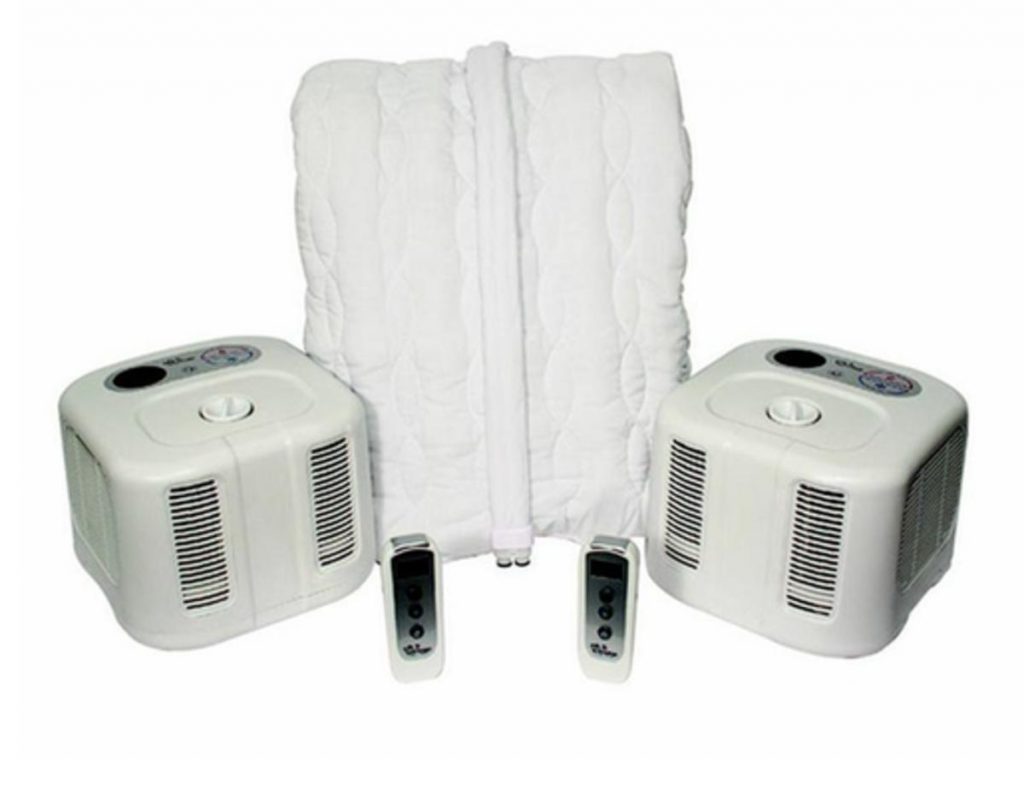 Of course, a dial is not needed, as the heat and cooling function are controls by buttons on the cube. Of course, they can also be controlled by the remote controls, which require batteries, as I found out. Honestly, I am not certain why the remotes are needed, for you are going to have to sleep with these remotes to work them. I think it might just be better to just have the burden of leaning over and playing with the switches rather than stashing the remotes under your pillows or something.
So, is the Chilipad worth it? I don't know, as it really depends how much comfort means to you. I used to love sleeping with an electric blanket, but I had settled for sleeping near a fan or a space-heater, depending on the weather. However, I can't guarantee a temperature of 55 or 110 F. Not only that, it uses less power.
Yes, I agree that getting a good night's sleep is important, and if this is of paramount importance to you, then the Chilipad is for you. Still, I need to let you know that it costs a pretty penny at $999.00 on the Chilipad site. At this point, you are going to have to ask yourself how much comfort is worth to you. It certainly is quite a product, and I would not be surprised to see more from Chilipad in the future.