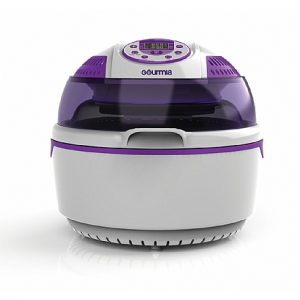 I was honestly surprised that I hadn't heard of Gourmia before, but I have to say that this company has a definite mission to bring cooking technology that helps people cook meals easier, faster, and healthier. I was more than pleased to try out the Gourmia GTA1500 Digital Electric Air Fryer, Griller, and Roaster as evidence of their vision.
At first I thought that the GTA1500 was some kind of deep fryer, but I quickly discovered that no cooking oil or fat is required. That alone is going to make my arteries happy, and it works by circulating hot air around the food, which is more than enough to make food crisp and juicy.
In addition to being an air fryer, the GTA1500 also functions as a grill, steamer, convection oven, air saute and rotisserie. Yes, that is a lot, and the list of foods that it can prepare is just as numerous with pizza, grilled fish, beef kabobs, steamed rice, and a whole lot more, including brownies, for crying out loud.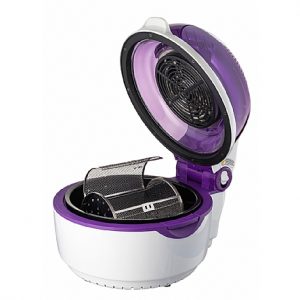 The GTA1500 comes with accessories for cooking such as a classic rotisserie spit and spit forks. As you might have guessed, they are made for spinning the food so you can have that fresh rotisserie chicken from the get-go. There is also a frying tumbler that is good for stir-fry foods and French fries, without all the yucky grease. Then there is also a high/low rack for grilling, barbecuing, and frying.
Much of the recipes can be done in 15-25 minutes, which makes cooking rather quick. It is also pretty easy with a programmable lid, and you can see inside. Just to let you know, there is a vent for the steam. As for cleanup, it has a removable cooking pot that can be removed very easily.
All and all, I'm pretty pleased with this, and I'm wondering if I can review more of them. In the meantime, if you want to get on the Gourmia train, this GTA1500 is available for $199.99. It is available for a cheaper price on Amazon.