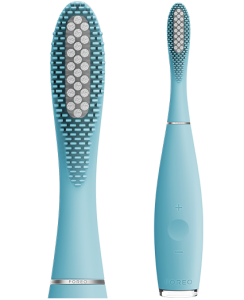 It has been a while since our first foray into FOREO, and the company is known for making some high quality electric Health and Beauty Aid products. Today, it is the ISSA, which is "more than just an electric toothbrush".
After getting a chance to review it, I can agree with that. You know how most toothbrushes are a plastic handle, and then some bristles attached to it? The ISSA bristles and its handle are one rubbery thing that vibrates to be strong on plaque and gentle on gums.
The end result is some whiter teeth, particularly for those with sensitive teeth and gums. Apparently, this Sonic Pulse Technology is made to break up and remove plaque, to prevent buildup and cavities. It is all about massaging the gums to prevent recession and damage to tooth enamel.
You can purchase the ISSA from the FOREO site for about $199.00. Yes, I know that costs $200.00 for a toothbrush, but it might be a good investment if it can save you trips to the dentist. Still, it has a 2-year limited warranty and 10-year Quality Guarantee. So, if there is a problem, yeah, I'll solve it, get the refund before the company dissolves it…ISSA baby (ding ding ding da da ding ding).